Ferris Mansour Bourjaily (1875)
ID: Ferris/Mansour/Assaf/Atallah/Elias/Ferris/Elias/Atallah/Elias/Atallah
Spouse: Turkman Bourjaily (1875).
Date of arrival to the States: 1904.
Children: Alice Bourjaily (1893), Monte 1 Bourjaily (1894 -1979) and Toufic Bourjaily (1895-1899).
Origin: Ferris originated from Kteleh in Lebanon and Turkman from Kab Elias in Lebanon
Residence: Lowell, Massachusetts

Notes: Turkman migrated to the states with her three children in 1901. She was followed by Ferris in 1904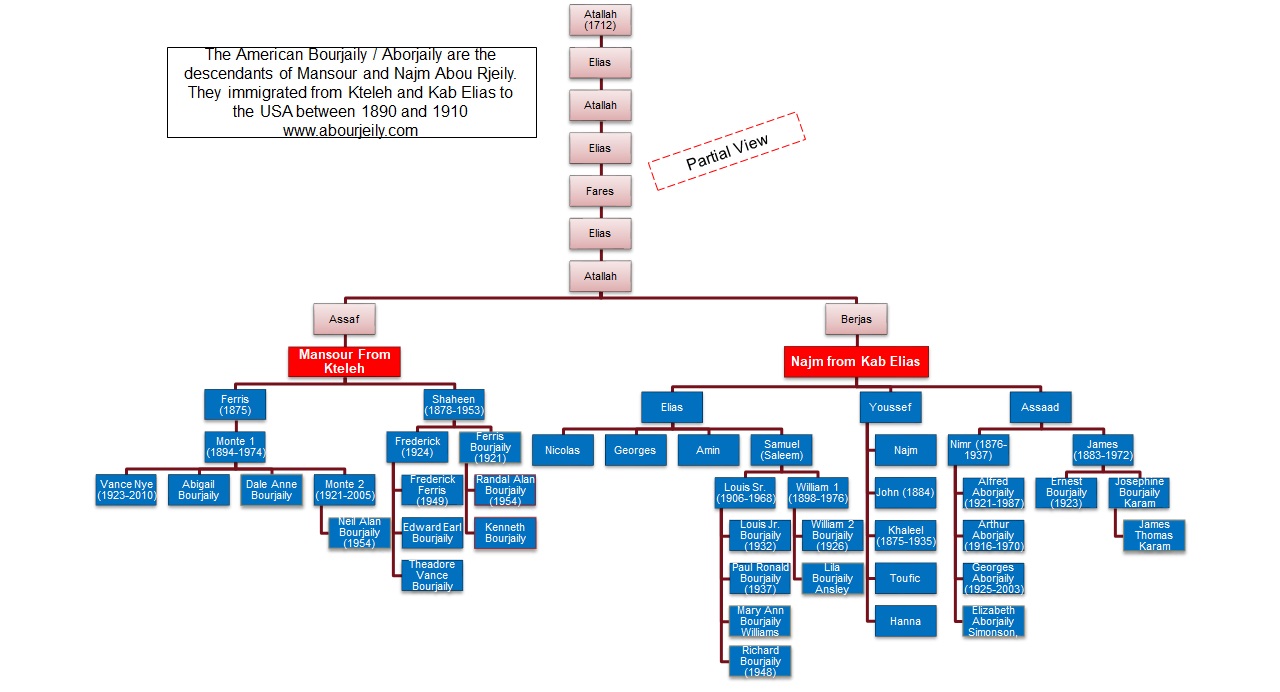 Figure 1: Founders of the Bourjaily Aborjaily branches in the USA
Nimr Assaad Aborjaily (1876-1937)
ID: Nimr/Assaad/Najm/Berjas/Atallah/Elias/Ferris/Elias/Atallah/Elias/Atallah.
Spouse: Kameele Aborjaily (1893)
Date of arrival to the States: 1905, Kamelee arrived to the States in 1913.
Children: Eugenie Aborjaily (1914), Arthur (Assad) Aborjaily (1916), Mary Aborjaily (1918), Alfred Nimr Aborjaily (1921-1987), Lillian Aborjaily (1923), Georges Aborjaily (1925) and Elizabeth Aborjaily (1929)
Origin: Nimr originated from Kab Elias and Kamelee originated from Bhamdoun.
Residence: Lawrence Massachusetts

Notes: He migrated to the states in 1905 through Ellis Island. He went back to Lebanon in 1912, married Kamelee Bourjaily from Bhamdoun and came back to the states in 1913. He run a store with his brother James (Najib) who was already in the country in Lawrence Massachusetts. He then moved to Boston where he died in 1937.
Louis Sr. Samuel Bourjaily (1906-1968)
ID: Louis Sr/Samuel/Elias/Najm/Berjas/Atallah/Elias/Ferris/Elias/Atallah/Elias/Atallah. His lebanese name is Elias
Spouse:
Date of arrival to the States:
Children: Louis Jr Bourjaily (1932), Paul Ronald Bourjaily (1937), Mary Anne Bourjaily (1943) and Richard Bourjaily (1948)
Origin: Kab Elias, Lebanon
Residence: Western Springs, Illinois, USA.

Notes: Louis came over from Lebanon through Marseilles as Elias Saleem Aborjaily. He is the brother of William Samuel Bourjaily. He was headed through Ellis Island to Cleveland where his brother, Bill, already lived and had a small grocery store. He never knew his father who died before he was born. But his mother, Rifka ultimately came to Cleveland to live with her sons until she passed away.
James Assaad Bourjaily (1883-1972) Born in Kabelias, Lebanon Died in El Paso, TX
Julia Habeeb Bourjaily (1885-1963) Born in Lebanon Died in El Paso, TX
Mabel Bourjaily (1903-1983), Born in Kabelias Lebanon Died in North Bergen, NJ
Nellie Bourjaily (1905-1963), Born in Lawrence, MA Died in El Paso, TX
Josephine Bourjaily (1911-1958), Born In Lawrence , MA Died in El Paso, TX
Thomas M. Karam (1905-1959) Born In Syr Al Danniyeh N Leb Died in El Paso, TX
Helen Bourjaily (1913-1997) Born in Lawrence, MA Died in El Paso, TX
Alice Bourjaily (1914-1995), Born in Lawrence, MA Died in El Paso, TX
Ernest Bourjaily (1923-2006), Born In Lawrence, MA Died in El Paso, TX
Yvonne Bourjaily (1926-2010) Lawrence MA Died in El Paso, TX